Biologist of the National University of Colombia, with a Master`s degree in biology. PhD candidate in sciences at the Pontificia Universidad Javeriana.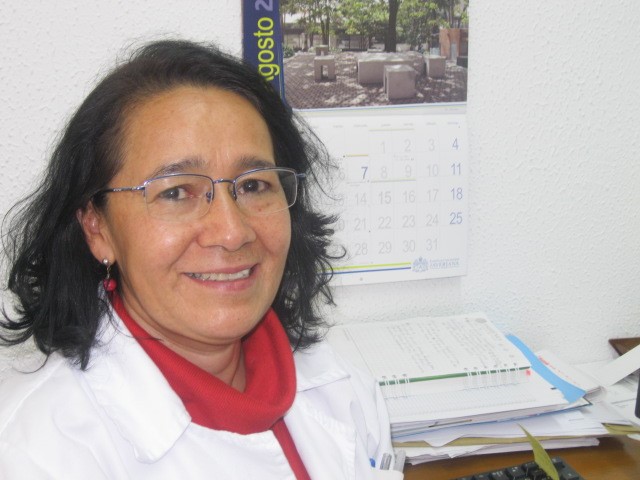 Since her undergraduate work, she has been linked to the area of ​​genetics, in particular to human diagnostic cytogenetics and as the main area of ​​research and teaching. She has been linked to the Laboratory of Genetics of the Faculty of Health of the Industrial University of Santander where she served as Professor and Cytogeneticist between 1998 and 2007, and the Human Genetics Institute of the Pontificia Universidad Javeriana as a full-time Professor of Human Cytogenetics 1991 and 1997 and from 2007 to date; Is a member of the "Cytogenetic Structure and Chromosomal Function" research group, which develops research projects in the area of ​​epigenetics as a mechanism for regulating tumor processes in the lung, and as a probable mechanism responsible for abnormalities in early human sexual development, in addition to The genetic characterization of rare diseases such as Fanconi's Anemia and the VACTER Association. These last two research topics are led by Professor Moreno under the financial support of the Vice-rector of Research of the Javeriana University and academic of the research group on the genome of chromosomal instability syndromes of the Autonomous University of Barcelona and the group of research of the human cancer program of CNIO of Madrid.
She has worked in the area of ​​fragility and chromosomal instability caused by environmental exposure to petroleum agents, in the determination of genetic polymorphisms predisposing to rheumatoid arthritis, in the cytogenetics of disorders of sexual development, and in the genetic study of Cleft lip and palate. He is a member of the group of experts of the EEDDCARIO program for the improvement of the quality in cytogenetics and has advised projects in the area of ​​cytogenetics.
Fenotipificación de pacientes con asociación VATER/VACTERL/ VACTERL-H y su relación con alteraciones cromosómicas y anemia de Fanconi. <BR>
Caracterización genética de la anemia de Fanconi en población colombiana y correlación con el fenotipo clínico