Clinical Geneticist, Director of Institute for Human Genetics, Pontificia Universidad Javeriana.  University Of Pittsburg, USA   Bioinformatics and Medical Informatics. Medical Bioinformatics, Clinical Genetics, Clinical Epidemiology, Ethics of Scientific Research

Biochemist, Universidad de Concepción
Doctor of Biomedical Sciences, University of Massachusetts, USA.   PhD in Biomedical Sciences with mention in Cellular and Molecular Biology – University of Massachusetts. Andres Bello University, School of Medicine – Center for Biomedical Research. Councilor Superior Council of Science, FONDECYT – Chile
Assistant Professor and Investigator Institute of Biomedical Sciences Andres Bello University                                                                        
Simons Center for the Social Brain Postdoctoral Fellowship
Best PhD thesis in Cell Biology awarded by Chilean Foundation for Cellular Biology and Chilean Society for Cellular Biology
Selected as outstanding Young Neuroscientist by the Chilean Society for Neuroscience.
ASCB scholarship
Becas Chile for short internships
Best undergraduate – master's thesis in Cell Biology 2010 awarded by Chilean Foundation for Cellular Biology and Chilean Society for Cellular Biology.
American Field Service (AFS) scholarship to study abroad for a year program in USA
Biologist
with experience in applied statistical analysis of data obtained in genomics and systems biology studies
Biology
at
National University of Colombia
(1998-2003).
Master's Degree in Biometrics
,
University of Lyon
1, 2004-2005
Doctorate in Biology
and
Applied Statistics
,
Agro Paris Tech
2005-2008
Academic at School of Biochemistry, Faculty of Medicine and Science at Universidad San Sebastián. Doctor in Biological Sciences, Cellular and Molecular Biology Area, UNIVERSIDAD DE CONCEPCION. Chile, 2009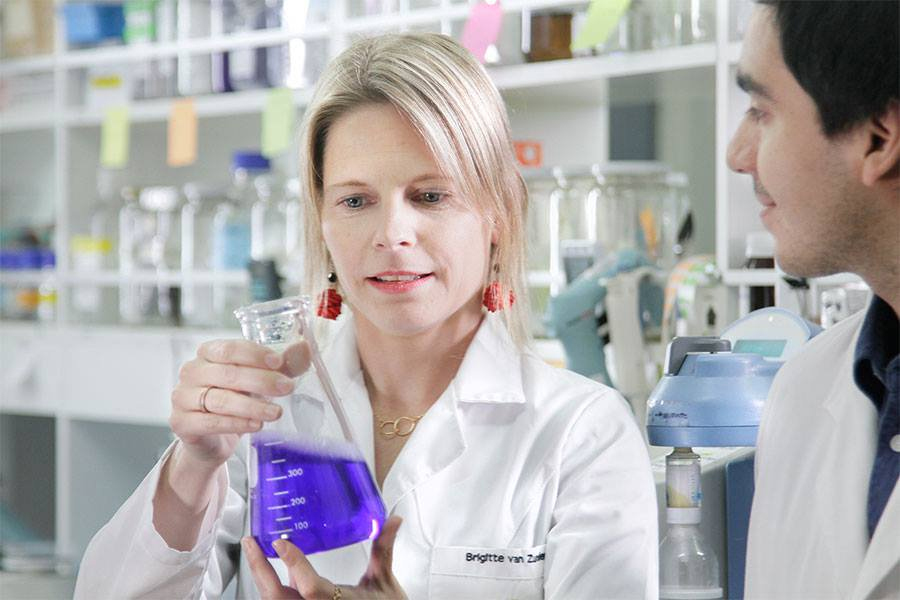 Brigitte van Zundert graduated as a Biochemist from the Dutch University HLO, Faculty of Science and Technology, in 1993. She has been specializing in the field of Molecular and Cellular Biology and received her Master degree from the University of Utrecht (The Netherlands) in 1996 and her Ph.D. from the University of Concepción (Chile) in 2002, in which she started to study neuronal transmission and plasticity.
Doctor in Biology, University of Córdoba, Spain (1991).
Posdoc:
Imperial Cancer Reseach Fund (ICRF), UK. Postdoctoral Fellow of the Human Capital and Mobility Program (EU). (1993-96).
University of Cordoba:
Fellow of the Training and Mobility of Researches Program (EU). (1997).
(2004-2005).
President of the Subcommittee on International Relations of the Faculty of Sciences (University of Córdoba).
President of the Research Commission of the Faculty of Sciences (University of Córdoba).
Research Director University of Cordoba. (June 2014-September 2015).
Member of the Research Policy Working Group (RPWG) of the European University Association (USA). (2017-present).
Delegate of European Affairs of the University of Córdoba (2018-Present).